Hi gang.
Please forgive me if this tale goes on, but I figure we are all Gretsch fans and we all enjoy each others purchases. Plus..this ones special (aren't they all).
So as you may have read in another thread, last week I'm about to set off on holiday and for no reason, other than boredom, I do a search of guitar stores along the route.
One such store listed a Masterbuilt (Stephen Stern) G6128 59' Jet in aged Daphne Blue. I've always considered Stern to be the crème de la crème of masterbuilders. Based on zero actual experience, but lots of reading, Gretsch-Talk and YouTube. I know...I'm easily convinced. But either way his are the only guitars I've considered dropping serious cash on, yet I've never even seriously looked. The other thing to note is I am a Jet man. I'm not into hollows, heck I'm not even into Penguins. I can admire them, and I do, but I'm not interested in owning them. The simple Jet style does it for me (V Cut Bigsbys only please).
So I saw that I was going within 2 miles of the guitar store driving home. I post the guitar here "Oh...wow". A lot of you say "do it" (I thank you all)...some say "waaay to much for a guitar, it's not worth it" (I respect you all). So I ponder all week whilst on the Beach. I decide i'm going to check it out, but by travel home day I'd kind of talked myself out of getting it, primarily because I wasn't convinced by the colour...and it's too much money not to be convinced, even by just colour. I consider not bothering to check it out at all. But my wife says "let's at least look, it's your birthday (50) and it'd make the week even more special"
So we went.
I walked in the store and saw it hanging up. Instantly the colour worries went. In person I think it's closer to Sonic blue, and it looks stunning. It's aged, but it looks brand new, it's only when you are right up close can you see it's finish checking. Move 12 inches or more away and it looks brand new. Think pristine closet classic and you get the idea.
I talk to the guy and he tells me they spec'ed it because they thought it was a guitar they'd love to own, rather than thinking it would be an easy sell. They had ordered it two/three years ago and it came in two weeks ago. They tell me Stephen liked the specs, and colour, and thought it was a cool build, so wanted to do it himself (this could be BS but it's cool to think it might be true).
Anyway, I plugged into a clean Fender amp, touch of 'verb....and oh wow. Firstly the fingerboard and fretwork is just perfect. Everywhere. Low, but playable, slick board, felt played in, and it felt like it helped me play. Even my wife's standing there telling me she's never heard me play so good (sadly she rarely listens so as much as I love her, her musical critique is nice, but hardly a peer review). But I felt like I was just breezing around, it was like the guitar was actually encouraging me to pull off all kinds of stuff. If I thought it, I played it, and effortlessly. We wigged out with some solo'ing, arpeggio'd like a maestro and cowboy chorded like I was in Nashville (not Exeter).
I played and played and just fell in love. I can't really describe it. I've had Electromatics, loved them, I have a (now to be sold) MIJ PowerJet, which is superb. But this is different, not a little different, but a lot different. I can't quantify it, but I was shocked by just how much better it was than guitars I already know to be great. It's supple, it's articulate, it's inspiring, it stands back and let's you do your thing. Nothing seems difficult when playing it.
It is a thing, made by a craftsman, with love, care and incredible attention to detail. Whatever Stephen does translates from his workbench into the instrument and then into the player. He is crafting instruments that are not only works of art, but are made to inspire the player to achieve things they didn't know they could.
I put it down, spoke to guy, negotiated a price (considerably less than I was prepared to pay - which was nice). And then it came home.
Regrets - Zero. No children will go without schoolbooks, no mortgage will go unpaid, no bank balance was harmed in the purchase. It's not going to stay in the case, it'll be a daily player, like the others (if anything else ever gets a look in again).
I'm lucky, I know that. I thank you all for the Grestchspiration you have provided over the years that got me here.
Take a look and let me know what you think.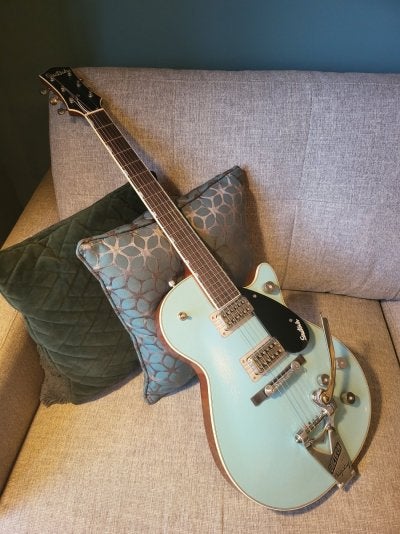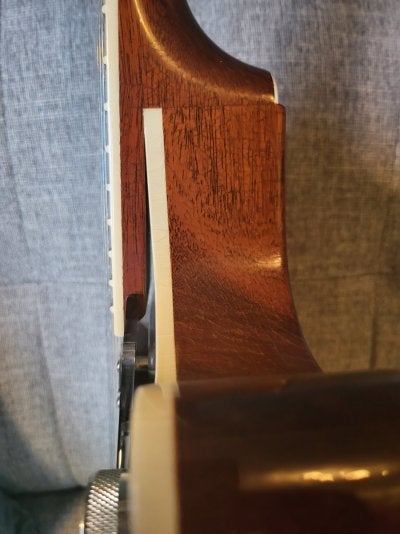 Last edited: