Chet's favorite guitar.
Good lord. It looks absolutely bonkers. Fancy, like an F-50 Guild fancy. Bling on top of bling. Gold hardware. The entire guitar is made of flame maple. It weighs a ton!
You sit it in your lap and plug it in. First impression is that the sound just surrounds you, like it wants to get into your body. Second thought is that the sustain is huge, way longer than my sound-post-equipped Double Annie (also a 2004). It is also a bit hotter. The fake F-hole enclosed top has a definite impact on the character of the guitar.
Next thing you notice is the neck. Big, wide. Like a 50's acoustic guitar neck. Feels exactly like the neck on my '56 Electromatic. Really comfortable for someone coming from an acoustic guitar background.
Last, you notice how truly wide it is. And how thin. A whole different ballgame from the Annie/6120 shape.
All in all, just a stunning piece of work.
I can honestly say that I was not prepared for how different this guitar sounds, next to a Double Anniversary built two months earlier. Both have that Gretsch sound, but delivered in two distinct flavors.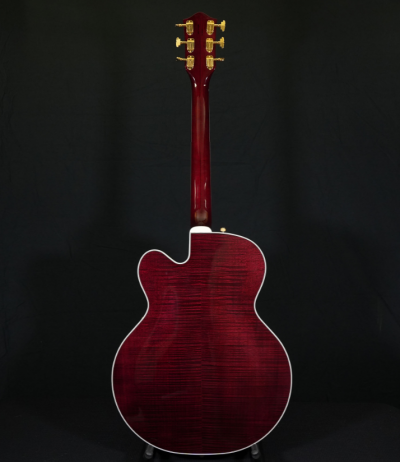 Last edited: