I want to hear some of your bad experiences with by sell and trades, I'll start.
So January 2021 I bought a 86 Honda trx 350 4x4 four wheeler and drove it for six months before it blew up .
Being stupid I took it to a shop where I got ripped off big time and left with a $1400 on a $800 bike!
Well fast forward to last week.
Last week it was plus 40 out and the old Honda left me in back of a feild miles away from home . All the electronics where completely dead .
On Friday I was still mad so I posted it for $2000 since I put work into it and paid to get it's paperwork transferred to my name .
I explained I had work done and the bike was still a "hit & miss" with the safety needing to be bypassed.
I also mentioned how it shut off on me but I have videos of it running just before it happened.
In the video you could see the bike smokes but it's an 86 .
The guy shows up at my work unannounced and I had to go to the farm where he saw the bike smoke run and drive because you know , the Honda started first try after sitting for three days.
He was happy with it the way it was and sent the e-transfer for 2g .
On Monday he starts complaining about the Honda and I was confused about why he was telling me what I told him on the farm .
Tuesday he tells me he doesn't like this deal anymore and my response was "that's to bad, I got paid and so did my bills. You have two options 1. Sell the bike or 2. Take it to his friends who works on bikes.
He even accused me of lying about taking it to the shop where I sent pictures that had time stamps of it at the shop .
Later I got more messages even swearing at me but it gets better.
Yesterday I get a call at 4:30 am that I ignored then I got an email from him and he's actually threatening me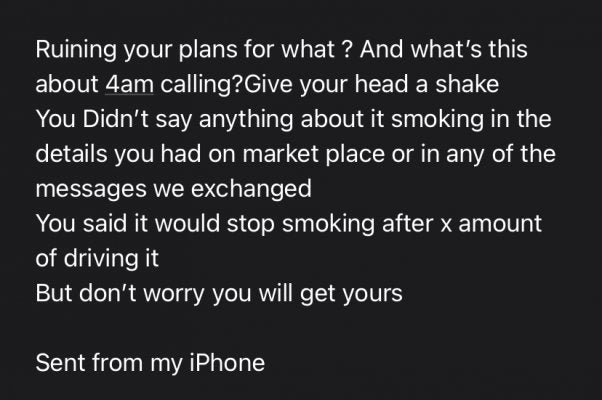 I responded
You saw it smoke , I never made you buy it and now you are mad because you made an irresponsible financial decision .
And it's not my fault you don't know how to drive , I can drive from point A to point B aprox 30-40 minutes without it smoking.
After talking to my folks , I haven't heard from him since .
Last edited: