Hey gang,

Just wanted to share with you all a mod I performed today on my Electro G5622t. So, this guitar came stock with Blacktop FilterTrons . I have to say, after hearing how awesome HS FilterTrons sounded in my G2622 Streamliner (I bought that guitar previously and upgraded pups, knobs, etc. I'll post a pic of that guitar as well
), I was finding the Blacktops too harsh and "ice-picky" for my taste. So...I started reading some posts here on magnet swaps and their effect on tone.

My first thought was to replace the 1/8 inch thick Alnico V magnet in the Blacktops with 1/4 inch Alnicos; the magnets used in the HS FilterTron and see what kind of results I got--yes, the newer Blacktops do, in fact, have Alnico magnets, for anyone who still thinks Gretsch is using ceramic.

After scouring the internet, I could only find one website that carried an actual spec replica of the 1959 Alnico magnet designed specifically for replacement in the HS. FilterTron. He was out of stock, of course!

So, I decided to use the 2nd 1/8 Alnico V from my Streamliner BroadTron pups (gathering dust) and stack them with the existing magnet in Blacktop to "make" a 1/4 inch Alnico V.
Stacking the magnets was not that difficult. The hardest part was getting the pup cover separated from the baseplate of the pickup. Once I got that off, it was just a matter of unscrewing the pole screws a bit to allow the other magnet to slide underneath the existing magnet. I also needed to buy 4 3/4 inch screws to screw the baseplate back on because of the added depth. Anyway, doubling the magnet made a HUGE difference in the sound!!!! Very, very close the the HS FilterTrons now! For anyone that's not happy with the sound of their Blacktops, this is a fairly easy mod that will give very pleasing results. Here are some pics (Sorry, I should have taken more step by step pics...)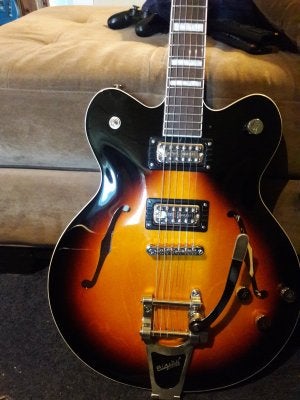 Last edited: