SOLD
I have decided to sell my somewhat rare G6120N New Nashville. I live in Canada just outside of Vancouver BC and will be bringing the guitar with me to Apache Junction Arizona arriving there on December 29th. So if you are interested it can be picked up there or shipped from there. Mine is a 2001 model in truly great condition with original case. If you are a fan of a thin line body and florentine cutaway this guitar may interest you. I had previously negotiated a trade but he later couldn't part with his as it held too many memories.
The only modification was an upgrade of the wiring harness to a TV Jones harness. The old one seemed OK but heard they could be a problem so I replaced it. I was surprised to see they used those small pot originally. The old harness is still in the case.
I can supply as many pictures as you like.
One picture has a friend playing it that some of you may recognize.
$1,800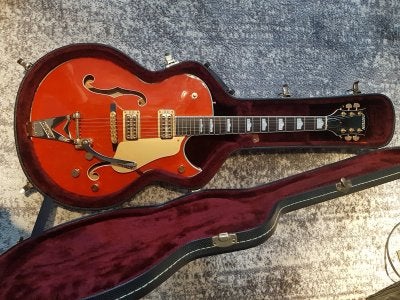 Last edited: