Been trying to get my head around how Gretsch/FMIC set the production of these in motion.
Back around 2011 I decided I wanted a G6122. I looked around and chose one, then went and talked to my connection at a guitar shop and they duly ordered one in. When it arrived, it was different to the model I thought I'd ordered. It had a zero-fret, Grover Rotomatics, closed F-holes, and the 15th fret neck join. When I mentioned the model I expected - no zero-fret, Imperial tuners, open F-holes, 18th fret neck join, the shop guys were as perplexed as I. A bit of rooting around was done and it transpired what I wanted was a G6122-II, though there was also another G6122 with Rotos, F-holes, 18th fret join and only a pup selector switch. That one was, I think, a pre-FMIC model. So, there were at least three versions of the the G6122 doing the rounds back then.
Two G6122-IIs left me until last year, when I re-acquired one. But in that search, all these variations turned up, including the G6122-1959, which really should have been the first version of the reissue, yeh? And could my G6122 - 18th fret join, Imps, open Fs - be considered a transitional model between the then contemporary G6122 mentioned above (zero-fret, 15th fret, closed Fs) and the G6122-59?
Someone help me with the timeline of these reissues for it's been bothering me for some time now.
G6122 Pre-FMIC
Terada G6122-II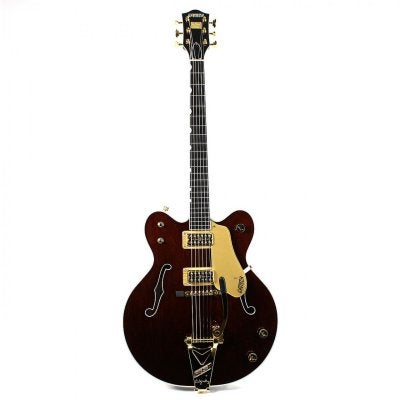 Terada G6122-59

Original G6122 1959