All done on this bought-used, 2016 Two Tone Surf Green / White, an FSR for Canadian retailer
Long & McQuade
!
Here's the "before" pic (which I've posted elsewhere here previously), all stock but for the brass Compton bridge...
Loved the very limited edition (for single [as opposed to double] cut Jets) Two Tone finish but hated the gold hardware against the Seafoam Green, wasn't crazy about the somewhat harsh-sounding Black Top Filters but liked the unplugged resonance and sustain, had my own approach toward improving tuning stability under Bigsby use (which was not great, despite the compensated Compton), and had other plans entirely for the two pickup volume, master tone, master volume control set.
So, here's what's on / in / around there now:
-- Off Kiltertron pickup set, neck and bridge, designed and constructed by Mel Waldorf of
Alameda Guitars
-- TV Jones EM2 Gretsch-style Pickup Rings
-- TV Jones SHM-RRSNG Riser for (bridge pickup) EM2 Ring
-- TV Jones EM2 Ring Screws, Stainless Steel
-- Belden 1883A 2C 24AWG wiring (as used in harnesses by TV Jones)
-- CTS 450S3494 Solid Shaft 500K Audio Taper pots, 24mm
-- Bass cut control & Treble cut control (à la Reverend Guitars "Bass Contour Control" set)
-- Kinman spec treble bleed on Master Volume control
-- PureTone output jack
-- Switchcraft 3-way pickup selector toggle switch, nut, and washer, Chrome, USA spec
-- Gretsh switch tip, chrome, knurled, USA spec
-- Hell Guitars Switch Washer Ring, MIJ
-- Gretsch Arrow Through "G" knobs, chrome, MIC, drilled out to 1/4" pot shaft spec
-- Generic Zinc Alloy Banjo Armrest, Chrome Plated, MIC
-- Generic Football Style Metal Jack Plate, Chrome, MIC
-- Bigsby "Licensed" B50 vibrato tailpiece, Polished Aluminum
--
Brick'sBiggsFix
BiggsFix Tuning Stabilizer V3 (Version 3) for Bigsby "Licensed" B50 for Chrome/Nickel Hardware
-- Brick'sBiggsFix Replacement Roller with Sealed Bearings for Bigsby "Licensed" B50 for Chrome/Nickel Hardware
-- Brick'sBiggsFix Super Squishy Spring
-- SGM Locking Bridge, Brass Roller Saddles, Chrome
--
Guyker
GK45SP Vintage Deluxe locking tuners, MIK (drop in replacements)
-- Zero Glide Replacement Nut System w/zero fret
-- GHS Big Core Nickel Rockers strings, Custom Light 009-1/2 - 048
-- Gretsch G6238FT Solid Body Flat Top Hardshell Case, Black
Of note, perhaps:
In addition to converting the Bigsby's string pivot bar from pinned to string-through by drilling and chamfering it, and optimizing the bar's rotational smoothness with the newly installed BigsFixx components, the handle's rotational "stop" has been ground off, and thanks to an idea (and the 2nd photo below) I got from the "other" forum, the handle's spring mount has had a flat nylon washer and cylindrical nylon spacer added, after which the nut was screwed back on and tightened to a medium-stiff rotational resistance; this mod is intended to "lock" the Bigsby's handle to the bar, making for ultra-responsive Bigsby action without any creaking or slop from the handle. Also tossed on a roller bridge -- which I know many of you hate -- for good measure, and while it sits at quite an angle given the position of the factory-drilled mounting stud holes, it doesn't bind at all! Will also say I'm happy to have the unplated brass saddles on there, as they happen to make a nice cosmetic / visual match with the color of the logo type on the headstock face (so that little bit of remaining "gold" isn't sitting up there all by itself!).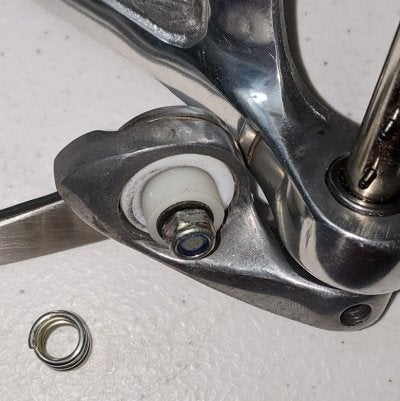 On other fronts, here's the ZeroGlide zero fret, which I've already had a positive experience with on this
Historic Series G3161 Streamliner
of mine...
And the locking keys (on other
backs
, I guess)...
Would like to thank forum member
@giffenf
for sharing his long-time experience with these fantastic Off Kiltertron pickups, which really helped nudge me in the direction of turning this budget axe into a "do it (practically) all" singlecut.
The already super versatile Off Kiltertrons -- which feature three single coil settings and three humbucking settings -- are made even more flexible by gutting the traditional Gretsch wiring and control layout in favor of the following...
So, now we've got: "V" is a Master Volume (with treble bleed), "T" is a Treble Cut (which is yer standard "Tone" knob), "B" is a Bass Cut (which can significantly thin out any tone), and "R" is a Rotary 6=Position Switch that is included with the purchase of Off Kilteron pickups and is key to their operation, which allows for the selection of six distinct voicings / tonalities with which anyone reading this is no doubt familiar, and wonderfully demo'd in this explainer video by the pickups' genius designer / builder, Mel Waldorf...
I'd add that the tones available from the Off-Kiltertron pickups aren't confined to the multiplicity of tones heard in the above video, but as I told Mel, this inexpensive import guitar -- in combination with the Kinman treble bleed and the Reverend Guitars-style "Bass Contour Control" circuit -- can now go from plunky plonk to scritchy skronk, bluesy sting to vibey ring, middy "braaang" to crunchy "kerrang," dirty deeds to liquid leads -- and more variations I don't even have rhymes for yet because it will take more moons to explore all the options available -- there's now so much more "there" there that it's hard to imagine any player (even this extremely hacky one) with access to the most basic amp, reverb pedal, and a drive pedal ever finding themselves without a workable sound in any imaginable hobbyist to professional woodshedding, rehearsal room, studio or stage situation; not to mention, lest we forget, simply playing for pleasure -- one's own, or perhaps that of family and/or friends -- all of which the "best" gear allows one to do by virtue of being simple and effective enough in operation to not require us to focus on that gear, rather than just enjoying making music.
Here's another angle, just for fun!
Last edited: