I picked up a absolutely mint condition 11 yr old Fender 72' Tele Thinline reissue for a killer price a few months ago. I knew when I got it what I was going to do to it. I only changed my mind about one mod.
Neck first; the 7 1/4" radius, 1.650" nut width and thin profile was not going to work for my old hands. I ordered a Warmoth 59' round back with 1 11/16" nut, 10" -16" radius and medium jumbo frets with the 3 bolt micro tilt. I put on my favorite vintage style tuners when it arrived; Gotoh ones that have three different staggered heights. I went with non roasted Maple to retain the period correct vintage look.
While I waited the few months for the neck I replaced the pots, wiring, switch, jack and jack cup with quality parts.
The original bent steel saddles were palm killers with the adjustment screws sticking up, even with short screws. I replaced them with some nice ones where the screws are recessed and the saddles are slotted yet they retain the vintage look.
I had read about reissue pickups not being as good as the the original 72' ones but I was pleasantly surprised by the reissues. I had planned to change them to the more vintage spec 72's but these had a great Tele twang from the bridge and nice warm tones from the neck….They stayed.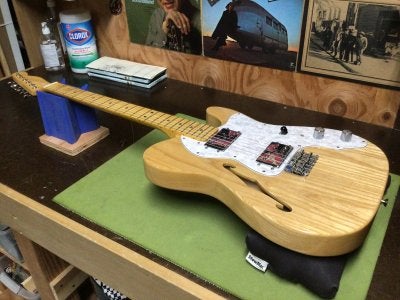 Last edited: