I'm currently bored with my small amp set up and I'm looking for some change, not through any fault of its own.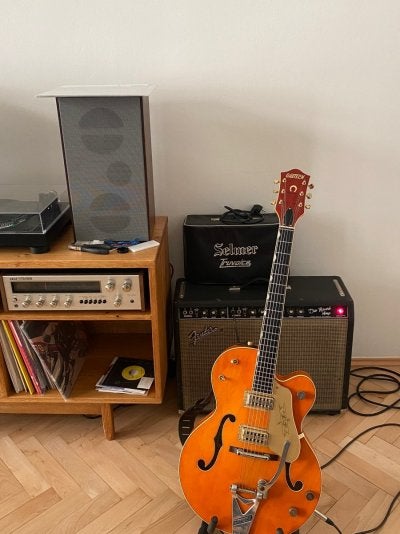 I've had this little beast for nigh on 8 years now-- done a lot of recording with it and some small gigs, but it's in great shape. Has a few scuffs in the tolex, but has the original leather case, the back panel is intact. Currently the only modifications done are a cap job, replacement power cord to a grounded EU one, and I swapped the original 8" Elac for a Jupiter 8" (I'll switch it back on request, of course). If you want both speakers, I think I can be persuaded to send them both on for a little extra. This amp kills. It's like a vintage Vox AC-4 but meaner-- lots of great Kinks/Brit Invasion sounds there, but you throw a booster into it and you'll hit Neil Young territory in no time. It's super light, and perfect for recording.
I'm looking for small 4 to 12 watt combo amps, any speaker configuration, ideally with tremolo. I'm always interested in vintage Fender Vibrochamps (ideally export/220v versions) as well as all sorts of other interesting Euro amps, other Selmers, Garens, Watkins/WEMs, Japanese copies of Fenders, tweed circuits, Valco/Airline pawnshop coolness, etc. I might even consider recent amps or boutiques (again, tweed circuits might be cool! V47s! whatever you got!), if you've got something cool lying around, let me know! I know watts aren't everything, but I want to keep it pretty low volume without attenuators since it's my late night recording/small gig amp, so probably a maximum of 10-12 watts.
Looking to get 1150 EUR (1200 for the amp with both speakers) + shipping costs, or +/- cash depending on the trade. Pictures tomorrow, it's time for bed here. Price is firm beyond that, so if it doesn't go at that price, I'll just hold on to it for a while.
EU only, sorry folks. The import and shipping fees on anything from the UK or US would ruin me.
Last edited: